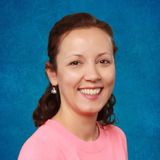 Ilinka A
Child Development supervisor
Reasons to Hire Me
solid background in planning, programming, budget control.
attention to detail, managing conflict and problem solving
openminded, flexible, educated and experienced
Early Childhood Educator in Calgary, Alberta
Dear Sir/ Madam, Your advertisement for Early Childhood Educator caught my eye, and as I appear to be a perfect match for this position I am eagerly applying for the vacancy. As an accomplished Child Development Supervisor, with over 10 years of experience in the field of Child care work and Daycare, I am well positioned to join your company and make an immediate positive impression. My key areas of expertise include, but are not limited to the following: -Well-developed project coordination and administrative support skills -Excellent skills in MS Office applications (Word, Excel, PowerPoint), Google (email, calendar, drive) and other email systems and web-based applications; typing 30-50 WPM -Strong organization and planning skills for pre-school and school-aged children -Strong attention to detail and accuracy in experience working to the highest standards on tasks and projects -Great communication skills and understanding of children's needs -Ability to work independently, with minimal supervision -Excellent team player – an energetic, versatile and self-starter that can work effectively with all levels of staff and management -A solid background in planning, programming, budget control, finance and leadership. -Possessing a convincing track record of know-how skills, reliability, responsibility, creativity, innovative working, teamwork, responsiveness to changes and inspiration to work with new challenges. -Very high driven, resilient, determinate, very adaptable, very organized, self-starter, always willing to learn and not shy of new challenges and new learning opportunities. -Having a well-deserved reputation for problem-solving competencies, planning competencies, oral and written competencies, positive thinking and managing conflict. -Confidence to deliver professional, reliable and personable administrative support and project coordination services I believe that my skills, experience, and reputation for excellence can greatly enhance your company's already impressive performance. I have a proven track record of responsibility, integrity and commitment to company objectives. I am comfortable working independently or as part of a team, and I firmly believe that your needs and my skills are an excellent match. References available upon request. Thank you for taking the time to consider my application. I look forward to your call in a few days' time to arrange an interview at a mutually convenient time. Yours sincerely, ILinka Arsovski
Experience
Ages include:
Elementary School 7-11 years
Training
I have been trained as:
First aid level: standard
Early childcare educator (ECE)
Child development supervisor
Recommendations
Olga Mateisen
Ilinka A. is a hardworking person, are completely dedicated to her job. She knows how to get to the needs of a child, and help him/ her to develop their skills. Ilinka always has a great communication with parents and staff. Ilinka is very creative person, she has lots of great activity, and crafts ideas. I addition, Ilinka had done some donation projects in the daycare for the Calgary Food Bank. Ilinka always can find a way to make children's day super interesting and special! For example: A Super Hero Day, meet Police Officers and sit in the police car, meet the librarian and listen to the stories and have some fun activities, etc. I would definitely recommend Ilinka A. to your school, so you will benefit from her skills and knowledge in this field.
Marilyn Tippett
Ilinka is very dedicated to her work and the children she cares for, a hard worker.
Sonja Simic
I recommend Ilinka A as a early childhood educator
Share This Profile
Find Early Childhood Educator in Calgary, Alberta